Common bearing types and applications
Time:2021.05.10 Source:Roller Bearings Suppliers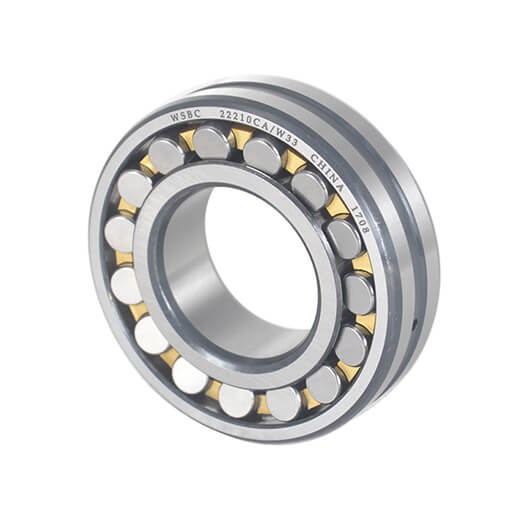 There are different types of bearings specifically designed for applications depending on expected loads and the possibility of temperature fluctuations, contaminant exposure, and pressure. Today , WSBC bearing share some common bearing types application .
For example, look at wind turbine bearings and slewing rings. These components may be as large as 2 m in diameter and are often required to handle hundreds of tons. Conversely, there are bearings for medical applications; these bearings show up in smaller machine equipment requiring bearings only a few millimeters in diameter. These applications might subject the bearing to washdown and therefore require treated steel subcomponents. For quiet or disposable designs, manufacturers use plastic as well. Similarly, industrial equipment that's fast, hot or insufficiently lubricated under typical conditions can benefit from hybrid bearings. These are the bearings that make use of rollers, balls and steel raceways made of ceramic.

Balls provide the rolling element in ball bearings for low-friction motion between the two races of the bearing. Ball bearings are frequently cost effective and usually require low maintenance. These attributes, plus low heat generation make them widely selected for motion system applications. Ball bearings are in everything from turbine engines and skateboard wheels to medical equipment and aerospace applications. WSBC 22314-E1A-MA-T41A bearings online , pls click here :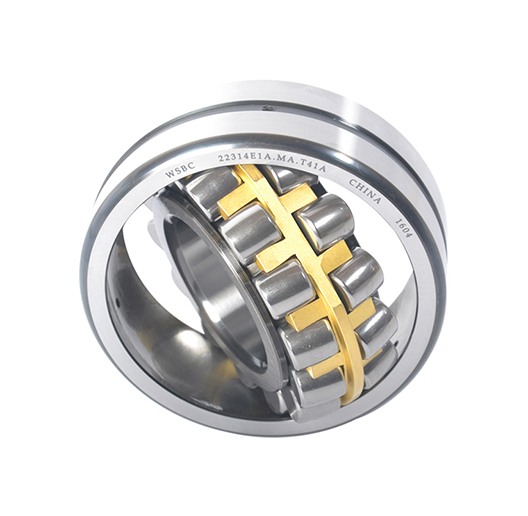 Roller bearings have rollers of differing shape (spherical thrust, spherical, cylindrical) as opposed to balls for transmitting loads and reducing friction. Because of this design, roller bearings have a larger surface contact area than ball bearings and can accommodate larger loads without deformation. This bearing more evenly distributes weight over cylinder line contacts, allowing moderate thrust loads. With ball bearings, the weight is distributed across sphere point contacts. Designers choose these bearings for turbine engines, conveyor belt rollers, gearboxes, and transmissions, as well as the mining, pulp and paper, food and beverage and waste-water industries.
A roller bearing with rollers whose length is at least four times their diameter is called a needle roller bearing. The larger surface area permits high radial loads in a limited space. Needle bearings are in rocker-arm pivots, compressors, transmissions and pumps. A rear-wheel drive vehicle's drive shaft often has no less than eight needle bearings (four in each U-joint). Often there are more. They are also common in agricultural equipment, construction equipment, two-cycle engines, and paper moving equipment. WSBC 22320-E1A-MA-T41A bearings online , pls click here :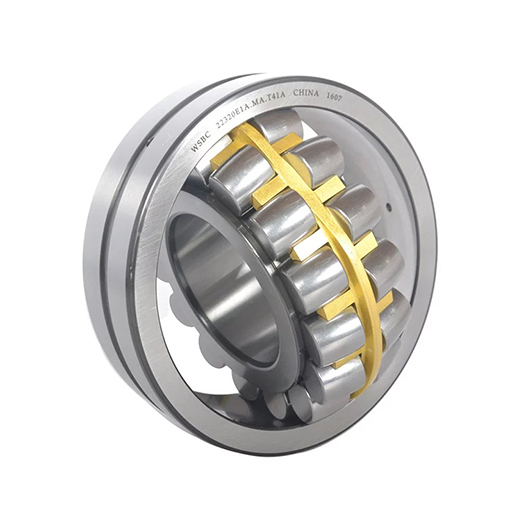 Thrust ball bearings are for applications with primarily axial loads. They can also handle shaft misalignment. Additionally, the bearings excel in high-speed applications for the automotive and aerospace industries and spindles, machine tool tables, fluid control valves.
Thrust roller bearings transmit load between the bearing's raceway to handle radial loads; these bearings can also self-align account for shaft deflection and alignment errors. Typical applications include: crane hooks, pulverizers, cone crushers and other heavy-load, medium-speed applications.
Tapered roller bearings use tapered rollers between tapered inner and outer ring raceways. These rollers are angled, so their surfaces converge at the bearing's axis. Unlike most bearings that accommodate either axial or radial loads, these bearings handle large loads in either direction. Design engineers use these bearing for fuel pumps, helicopter transmissions, agricultural uses and others.
Plain bearings don't have rolling elements. They're compact and lower-cost bearings for many applications, but automotive and construction are some of the most common. Plain bearings go in steering cylinders, hydraulic excavators, and more.